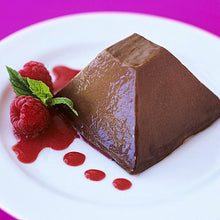 Small Pyramids Silicone Mould
$0.00
( / )
Tax included.
Shipping
calculated at checkout.
Make a delicious and eye-catching dessert with the Small Pyramids Silicone Mould! This mould is made from high quality silicone to help create elegant pyramid-shape desserts.
The non-stick surface allows for the goods to easily be released from the mould and also allows for it be easily cleaned and maintained. To use, simply pour your recipe into the mould and bake or freeze as specified. 
This mould is safe for use in temperatures ranging from -60C to 260C making it perfect for cakes or chilled and frozen desserts such as ice cream and gelatin.
To clean, rise the mould with hot water or place it in the dishwasher. Since it is made from 100% food-grade silicone, it resists stains and odours.
The mould measures at approximately 295mm x 170mm x 34mm and features 6 cavities with each cavity measuring at approximately  70mm in diameter.