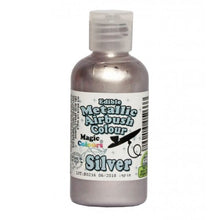 Edible Metallic Airbrush Silver 55ml
$0.00
( / )
Tax included.
Shipping
calculated at checkout.
If you are in need of a silver metallic airbrush liquid then use the Edible Metallic Airbrush Silver 55ml! Magic Colours Metallic Airbrush Colour is a concentrated fully edible liquid metallic food colour created for use with an airbrush or paint directly onto your cake or sweet creation.
Airbrushing cakes has never been easier. Simply add a few drops of your chosen colour to your airbrush and away you go! Why not mix the colours to create your own shades?
Magic Colours have great smooth consistency for amazing effects on fondant (sugar paste), gumpaste, marzipan, icings, buttercream, chocolate, macaroons, wafer paper and much more.
In addition, this metallic product can be used to make gold, silver, or any coloured leaf to add luxury to cake designs. Add lustre to your finished cake with a light spray, or create stunning metallic finishes with layered colour.
Contains Alcohol. Vegan friendly. Nut free. Always clean Airbrush after use.