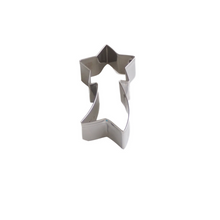 Shooting Star Stainless Cookie Cutter
$0.00
( / )
Tax included.
Shipping
calculated at checkout.
The Shooting Star Stainless Cookie Cutter can be used for a range of occasions, including Christmas and Celebration Awards! Made from sturdy high quality 18/0 grade stainless steel, and will not rust. Because of the quality of the steel they have a sharp cutting edge therefore give a crisp finish when cutting. Perfect for fondant, cookie dough, sandwiches, fairy bread, pizza dough, play dough, fruit, cheese and modelling clay just to name but a few uses.
This Shooting Star/Place Ribbon Cookie Cutter measures 8cm wide and 4cm high and 2cm deep.