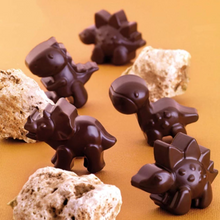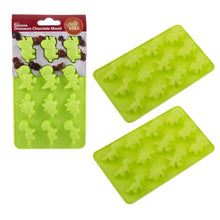 Dinosaurs Silicone Chocolate Mould 2 Set
$0.00
( / )
Tax included.
Shipping
calculated at checkout.
Create some prehistoric chocolates, caramels or fondant pieces with the Dinosaurs Silicone Chocolate Mould 2 Set! Made from silicone, this mould features 4 different dinosuar designs. This mould is freezer, refrigerator, microwave, dishwasher and oven safe. Bake, store, freeze and reheat right in the moulds.
The mould features 12 cavities x 2 trays with each measuring at approximately 3.5cm x 2cm.
Tips for Chocolate and Caramel:
Thoroughly oil the mould before use and a soft, small pastry brush can be useful here to grease detailed area.
Always use cooking chocolate, this is made especially for melting and cooling.
For intricate moulds it can be useful to paint the chocolate/caramel into detailed areas to ensure they are filled. Remember to tap mould against worktop to remove air bubbles as you fill it.
Setting in the freezer can make removal easier.
Tips for Fondant Icing:
Lightly grease before filling mould or dust with icing sugar.
For intricate patterns, once set it is best to put in the freezer until firm.
Loosen the edges gently before release.