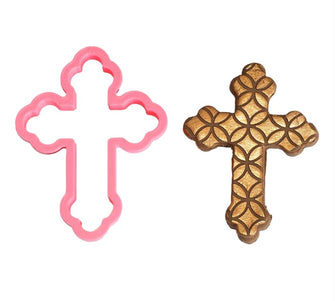 Cross Ornate 3D Printed Cookie Cutter
$0.00
( / )
Tax included.
Shipping
calculated at checkout.
The Cross Ornate Cookie Cutter is perfect to use for theming at religious occasions! It is 10.8cm high and 7.8cm wide with a 1.7cm deep cutting edge. Printed with 100% food-safe PLA plastic, making it the ideal baking stamp.
Its biodegradable components are derived from renewable sources, including corn starch, sugar cane, tapioca roots, or even potato starch.
Cleaning and Care Instructions
Gently hand wash with warm water and a soft brush.
Allow air to dry or dry with a soft cloth.
Store stamps in an airtight bag or container, out of direct light.
Please note that stamps are made from light plastic and are not suitable for dishwashers.
Avoid exposure to heat to prevent warping.
Use Instructions
Roll out your cookie dough or fondant to the desired thickness.
Press the cutter down into the dough or fondant and remove to reveal the shape.