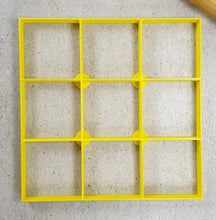 Square Multi Cutter - 70mm Standard
$0.00
( / )
Tax included.
Shipping
calculated at checkout.
The Square Multi Cutter - 70mm Standard is designed with the professional cookie maker in mind. It is designed to save you time and use less energy than using a single cutter.
The cutter has been made with strengthening ribs on the inside to stop the cutter from flexing as you push down to keep the shape perfect. As well as being great to cut with the edge on the handle side has been rounded off so it's comfortable to push down on all day long.
The cutting wall is 16mm long with a sharp yet strong end on each of the cutting edges. 9 Unlike metal cutters these won't lose their perfect shape. The cutter has a tapered edge for sharp cutting unlike many 3D printed cutters on the market.
Orders from Australia will be made and manufactured locally from PLA which is a biodegradable plastic derived from renewable resources including cornstarch, sugar cane, tapioca roots or even potato starch.