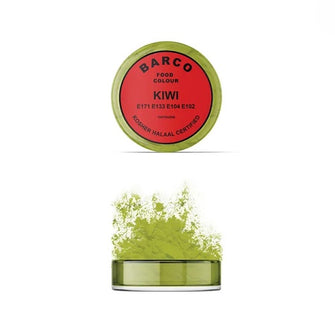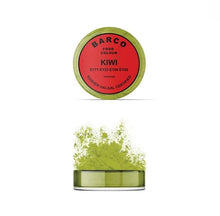 Barco Red Label Colour Dust - Kiwi 10ml
$0.00
( / )
Tax included.
Shipping
calculated at checkout.
Barco Red Label food colour is a preferred brand to colour, dust or paint your sugar craft with. It is also a product of choice to colour white chocolate with.
Colour

Ideal for colouring products containing fats and oils or items lacking sufficient moisture to dissolve dyes i.e. chocolate. Typical uses include chocolate, cake and doughnut batters, hard candies and chewing gums, lipsticks, soaps, shampoos, talc, fondant, butter icing, beverages, candy floss, meringues, royal icing, pastilage, baked goods, gelatin balls and glaze for glazed cakes, confections, eye shadow and a variety of other products.
Paint
It can also be mixed into Quick Paint, Paint Base, or pure lemon extract and used as a paint to paint onto fondant, gelatin balls and chocolates.
Dust
Used to dry brush color onto gum paste or fondant designs.