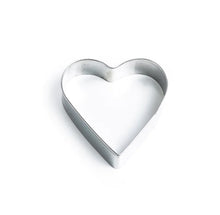 Medium Heart Cookie Cutter - 6.5cm
$0.00
( / )
Tax included.
Shipping
calculated at checkout.
The Medium Heart Cookie Cutter is crafted to give you an adorable heart shape for all occasions! It is 6.5cm high with a 2cm deep cutting edge.
This cutter makes cookies that perfectly fit our small acetate box (Box Small).
Material
Made from high-quality 18/0 grade Australian Stainless Steel.
Cleaning & Care
Gently hand wash with warm water and a soft brush or wash in the dishwasher
Allow air to dry or dry with a soft cloth; once fully dry, store stamps in an airtight bag or container
The cutter is made from good quality stainless steel, so it will not rust. Proper care is recommended to avoid rusting or discolouration.
Use Instructions
Roll out your cookie dough or fondant to the desired thickness. Press the cutter down into the dough or fondant and remove to reveal the shape.
Tips
For cookie cutters with fine details, chilled cookie dough works best.
Lightly dusting your cutter with cornflour or icing sugar gives you a cleaner cut through the fondant.
Cutters can be used for fondant, modelling paste, sugar paste, cookie dough, sandwiches, fairy bread, pizza dough, play dough, fruit, cheese and modelling clay, and more.