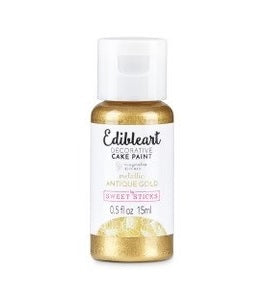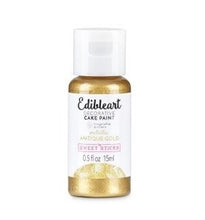 Edible Art Paint 15ml - Metallic Antique Gold
$0.00
( / )
Tax included.
Shipping
calculated at checkout.
The Edible Art Paint 15ml - Metallic Antique Gold is a revolutionary paint made in Australia.
The paint is ready to use straight from the bottle, so there is no need to mix it with any other ingredients. Once applied and dried the pigment is sealed within the surface – no dust or smudges!
Sweet Sticks Metallic Edible Art Paint can paint on many surfaces such as Fondant, Crusted buttercream (Butter and sugar only recipes), Sugar cookies,  Marshmallows, Confectionery, Ganache, Modelling chocolate, Macarons, and Fruit ie: Berries
Note
Sweet Sticks metallic paint works on some royal icing recipes but not on all therefore we do not recommend painting on royal icing.
Ingredients
The paint has a unique blend of 100% edible ingredients
Propylene Glycol, Glaze (Shellac, Ethanol 16%)
Mica-based Pearlescent pigments (12.5%)
Different ratios of mica-based pearlescent pigments titanium dioxides and iron oxides are used to make each colour unique
Gluten, dairy, soy and peanut free
FDA Approved food colour
Kosher certified by Kosher Australia
Use Tips & Tricks
There is a lot of lustre in one bottle. It is highly recommended before use to open the lid and give the product a good stir as the lustre might be stuck at the bottom of the bottle. If that is the case when you try and paint you might be left with a transparent finish. Open lid, stir until all ingredients are mixed well, put the lid back on and give a quick shake. If this step is done correctly you will have a beautiful thick, opaque metallic paint.
Brushes play a big role in your overall quality finish. If using a cheap quality brush you may be left with brush strokes and an uneven finish. Invest in quality brushes if you can.
Drying time can vary based on what surface you are painting on, how thick the coat is and humidity levels. For a quicker dry time we recommend thin coats and avoid painting in high humidity conditions. Drying needs to be done by air drying. If not air dried correctly you may be left with an after taste. Be sure to have it touch dry before placing it into the fridge. When dry your surface will be rub free and tasteless.
If you are new to our products we always recommend getting yourself familiar with them first. Practise before using on your finished product to achieve a successful result.
The best before date is the recommended times to use the paint within to get the best results. The ingredients used do not have an expiry date as such but the quality may not be the same if used outside the best before dates.