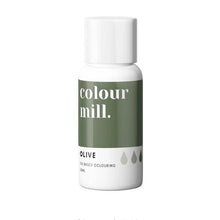 Colour Mill Oil Based Olive 20ml
$0.00
( / )
Tax included.
Shipping
calculated at checkout.
After a olive colour in your icing or chocolate? Add theColour Mill Oil Based Olive 20ml! Unlike conventional gel colours, Colour Mill's unique blend loves the fats & oils in your baking. Colour Mill dye and disperse their colouring using these oils, allowing you to achieve a rich & vibrant result.
Suitable for use in Buttercream, Swiss Meringue, Chocolate, Cake Batter, Ganache, Fondant & many more. To achieve a true colour, we recommend adding white before your colouring to reduce any yellow tones in buttercream, chocolate etc.

Directions:
Shake well before use
Take it easy, colours will develop over time
Store in a cool dry place away from sunlight.

Blended & bottled in Australia from local & imported ingredients. Allergen Free, Vegan, Halal, and Kosher. Size 20ml (approx 30g)