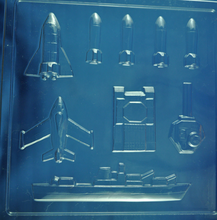 Chocolate Mould Military
$0.00
( / )
Tax included.
Shipping
calculated at checkout.
You'll have everyone standing at attention with your excellent chocolates made with the Chocolate Mould Military! This mould is perfect for adding military and army themed chocolates to your cakes and cupcakes, or simply to enjoy on their own!
These moulds can't be used for candy centres, but they are suitable for chocolate, fondant, soap making, plaster and concrete crafting, and much more! The mould is made from BPA free and FDA approved food-grade plastic, but they are not dishwasher safe.
The mould features nine cavities with 6 different shapes, which measure at approximately:
- Missile: 5cm x 1.5cm (5g)
- Plane: 6cm x 7cm (10g)
- Tank: 6cm x 4cm (15g)
- Top of Tank Gun: 7cm x 3.5cm (10g)
- Battleship: 3.5cm x 15cm (15g)
- Jet: 6.5cm x 4.5cm (10g)
Weight is based on solid chocolate.