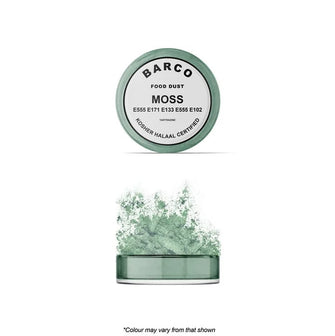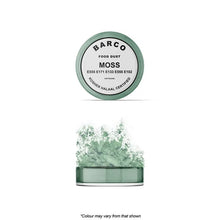 Barco Moss Shimmer Paint Dust 10ml
$0.00
( / )
Tax included.
Shipping
calculated at checkout.
Barco White Label is the perfect Satin Sheen, with flecks of Star light, dusting or painting powder to add that extra dynamic aspect, finish, dimension or shine to your sugar craft.

Characteristics:
Powder colours with a sheen and flecks of starlight
Food Grade
Kosher and Halaal certified.
GMO free
Vegan
Gluten Free
Nut Free (Possibility of external contamination)
Dairy Free (Possibility of external contamination)

How to:

Paint:
In a small bowl, mix equal parts PINK LABEL PIGMENT and Quick Paint, Paint Base (for painting on chocolate or fondant) or pure lemon extract. Mix thoroughly before painting and stir often as it continuously settles to the bottom. If you need to paint more than one layer for even coverage allow each coat to dry completely before starting a new one.

Dust:
Dab the paint brush into the pigment and tip excess off. Test the colour by brushing in a circular motion on paper towel. If it is correct, do the same on the fondant or gumpaste designs you want to add colour to. Ideal for sugar craft flowers etc.
For fine details, a small round head brush works best. For larger areas, use a wider, flatter brush even the big round brush, used to apply blusher.

NOTE: Colour may differ slightly from actual product depending on your device's screen settings.