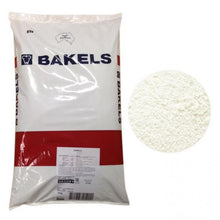 Bakels Alpine White Mudcake/Creme Cake Muffin Mix 15kg
$0.00
( / )
Tax included.
Shipping
calculated at checkout.
Create a yummy white chocolate mudcake or a creamy vanilla cake with the Bakels Alpine White Mudcake/Creme Cake Muffin Mix 15kg! This delicious 15kg mix can be used to create either a rich vanilla muffin or a white choc mud when white chocolate is added.
You can also use any of the Bakels flavouring in this mix to create different flavours such as caramel, raspberry, mango, and more! Depending on which flavouring you are using, add 1-2 tablespoons per 1kg. Remember that the Bakels flavourings are concentrated so they are quite flavoursome and won't taste quite right prior to cooking.
Please Note: 
This is a 15kg cake mix and it can be picked up in-store.
Alternatively, if you are in NSW, you can call for a freight quote. Your suburb and postcode will be required.
---
BAKELS WHITE MUD + CREME MUD RECIPE (PER 1KG)
Mix will approximately fill a 10 inch (25.4cm) x 3 inch (7.62cm) round cake tin.
Ingredients: 330ml water, 3 eggs, 190ml vegetable oil + 300g white chocolate IF making white choc mud.
Directions:
If making white choc mud, gently melt white chocolate and vegetable oil together and allow to cool.
Add 1kg of mix to water and eggs, and then mix on low speed of 1 minute.
Scrape down and then mix on medium speed for 2 minutes.
Add oil (or oil + choc) along with any additional flavourings and mix on medium speed for 1 minute.
Bake at 150°C for approximately 90 minutes. Test middle of cake with skewer and then allow to cool if done.
---
Cake Mix Ingredients: Hi ratio wheat flour, Sugar, Vegetable oil (emulsifiers (471, 477), antioxidant (330)), Milk solids, Thickener (1422), Raising agents (500, 541), Salt, Gluten flour, Natural flavour, Vegetable gum (415), Emulsifier (481).
Store below 25°C in clean, dry conditions and protected from direct sunlight. Contains gluten and milk. Made in New Zealand. Halal approved.