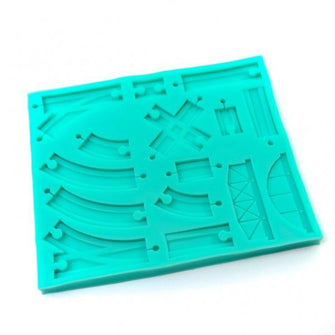 Train Tracks Silicone Mould
$0.00
( / )
Tax included.
Shipping
calculated at checkout.
You'll be racing down edible train tracks with the Train Tracks Silicone Mould! The Train Tracks Silicone Mould is made out of a silicone system specially formulated for use in food and confectionery and complies to FDA regulations. For best results use with flowerpaste, modelling paste, fondant (with tylose as hardener), marzipan and more.
The mould consists of 13 different interlockable track sections and 2 bridge panels. Everything needed to create endless designs. The mould measures 156mm x 128mm. The track width is 14mm with a depth of 4.5mm.
Instructions: For best details, tap in small amount of paste with a small rolling pin. Roll gently over the silicone mould and remove excess paste with a blade tool rather than a knife to avoid damaging the sugarcraft silicone mould. For easy release, the sugarcraft silicone moulds can be lightly dusted with cornflour.