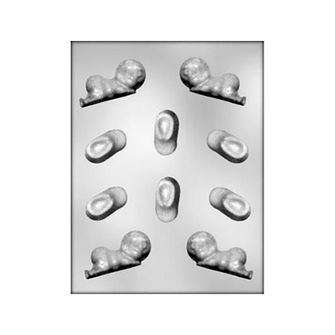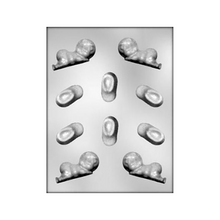 Chocolate Mould Baby Shower
$0.00
( / )
Tax included.
Shipping
calculated at checkout.
Create some adorable edible pieces for a baby shower with the Chocolate Mould Baby Shower! This chocolate mould will make 8 baby themed chocolates that are perfect for decorating a cake or topping off some cupcakes. The mould will make approximately 15 baby pieces & 30 bootie pieces per 500 g of chocolate.
These moulds can't be used for candy centres, but they are suitable for chocolate, fondant, soap making, plaster and concrete crafting, and much more! The mould is made from BPA free and FDA approved food-grade plastic, but they are not dishwasher safe.
Each cavity measures at approximately:
- Babies 7 cm x3.2 cm x 1.9 cm
- Booties 4.4 cm x 2.5 cm x 1.3 cm